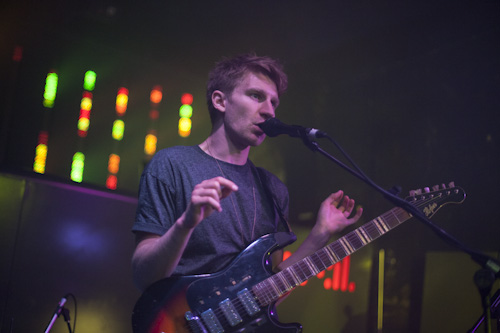 Photograph taken at The Great Escape Festival in Brighton by Andrew Novell.
Glass Animals
have had a busy summer diet: European festivals, new singles and even closing a deal with producer Paul Epworth's (
Primal Scream
,
Bloc Party
,
Adele
) new label,
Wolf Tone
. Last night saw them digest it all with a packed-out homecoming show.
The small space in The Jericho Tavern, renowned for housing
Radiohead's
debut gig, was well suited for the close textures of Glass Animals' experimental sound. Better still, it enabled vocalist/guitarist Dave Bayley's abstract and poetic lyrics to float between the many pairs of ears stacked to the front. Bayley is a natural frontman, with finely-tuned support from his bandmates.
The gig also gave the four-piece the chance to debut new material; 'Gooey' and 'Fresh Coast' sounded almost as established as buzz-hits 'Cocoa Hooves' and 'Black Mambo'.
A taste of what to expect of their debut album (due to be released in March/April 2014) hung heavy in the air at the show's close, but at least we won't have to wait too long for new recorded material. The band plan on releasing a mixtape as a late Christmas present in January.
Setlist
Exxus
Dust In Your Pocket
Psylla
Gooey
Golden Antlers
Fresh Coast
Cocoa Hooves
Toes Wyrd
Black Mambo