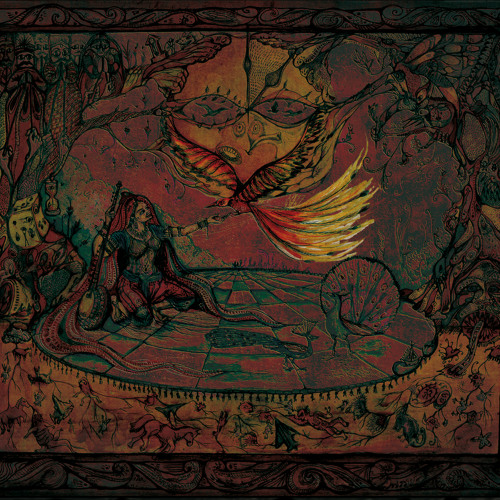 *Originally published for Artrocker (29/4/13)
Shama Rahman

leads a rather busy life as a PhD student of musical creativity, actor, storyteller and musician, and it's obvious in her music. From the instruction to listen to Fable: Time on shuffle, to playful and original world music fusions, nearly every part of the record is cloaked in experiment, drama and metaphor. But does it work?
Fable: Time is meant to be listened to in any order to help realise "how time affects us, its illusions, deceptions and myths", leaving all song titles in an equally-muddled state. This freedom is an interesting experiment - not quite the boldness of a Gwilym Gold innovation - but works tastefully as an extended metaphor for the theme of time.
Faux-opener, 'Reflections' (merely the first track downloaded)is a strange little number. Elementary piano notes thump around salsa rhythms and warm brass, whilst Rahman sings in rather erratic waves. The variable beat patterns are admirably creative, but it's a real effort trying to catch the slippery thing.
Next in the lucky dip is 'Coast', but luck isn't playing fair today. Aquatic guitars swash about in a pool of horribly distorted instruments and Rahman's vocals fail to interlock with the intricate sitar, double bass and drum arrangements. Perhaps that's the point.
'Time' finally shows off the talent that Gilles Peterson and the like have so raved about. A lone sitar floats above Rahman's gorgeous otherworldly vocals, evoking images of vast, uninhabited desert plains. An Indian tabla and a fluent violin help build the tracks many layers, but the sitar is the star of the show here. Rahman has been taught by the late Pt Ravi Shankar and it's clear. She has developed a combined style of sitar playing and singing that is so natural and expressive (the kind that would be wonderful to see live) and allows this to be the glue that holds a good chunk of the album together.
Rim taps emulate the tick-tock of a clock on '26 Hour Baby', lolling guitars and sitar thread between the complex time signatures in 'Jokhon', and you can honestly pick out the nuances of jazz, folk, bossa nova, dubstep that Raman cites as influences. This is especially evident on 'Warrior', which races between genres but leaves Rahman's spoken-word music untouched. However, like 'Bolte Paro Ki' and the some of the aforementioned tracks, this is one of the weakest on the album.
Fable: Time is good when its good and poor when its poor. Many songs get lost in themselves, muddied as they are by Rahman's cross-genre manifesto, but others do rear their beautiful heads. There is no question of the record's originality, but there is a way to exaggerate it and a way to let it breathe. Regrettably, the balance isn't quite reached.
3/5