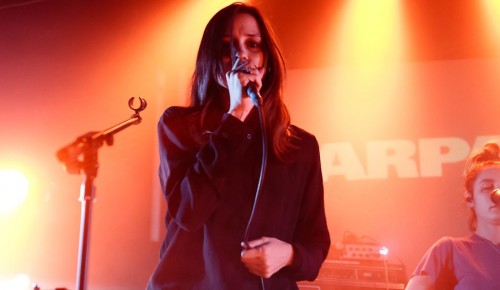 *Originally published for

The Line of Best Fit

(27/1/14)
Warpaint's
new self-titled album has received more contentious reception than their 2010 debut,
The Fool
, despite it
debuting at number 9 in the UK charts
this week. As is the case with many bands who don't quite fit the norm, there's an almost cult-like loyalty amongst fans that perhaps answers the record's early success – you either "get them" or you don't. Some say their brand of dark, atmospheric music simply washes over them.
But what is so special about the LA four piece is precisely that. They make music to swallow you whole, to nestle on the back of your brain, cradle you as you drift off to sleep. Their music has never been about huge pop hooks, it's about the mood it manifests and the almost otherworldly spiritual connection it brings. Warpaint's latest effort more than rewards patient ears.
This takes us to the band's eagerly-awaited set at Oxford's O2 Academy on Saturday, full to the brim with devoted followers – from Colin Greenwood of
Radiohead
to twenty-somethings who know every word to
The Fool
. Like every Warpaint gig personally attended to date, the same thing happens; the first two or three songs are muddied by misjudged sound levels. This allows Jenny Lee Lindberg's bold bass and Stella Mozgawa's powerhouse drums to completely drown any intricate melodies fashioned by Theresa Wayman and Emily Kokal's trio of guitars, vocals and synth. Thankfully, "Hi" – a trippy, lounged-out track from the new album – marks the start of recovery, Wayman creeping witchlike about the stage with warm tones flooding the room.
Bathed in a pink hue, the fourpiece really start to come together on "Composure". With its transient basslines, gaunt guitar notes and Kokal's sharp, emotive husk, it's so tight it sounds like it's been plucked straight from the studio. Like the rewards offered from patient listening, this is a glorious payoff for a tedious start.
After being treated to an upbeat new song, the girls proffer the brooding lead single of the new album, "Love Is To Die". A song that sounds impossibly better live than on record, the chorus hits everyone square on, its melodic bass line and audacious key changes cutting straight through the crowd. Again, it's Wayman who connects most with the audience, flanking the edge of the stage as Kokal and Lindberg's hazy harmonies waft. A signature Warpaint improv also begins to bite at its heels.
It has to be said that Mozgawa is a force of nature behind her kit, binding all the band's disparate tonal elements together. Never will you see a drummer more elated – from her brattish blasts on "Disco//very" to the smooth, slo-mo brushes of "Biggy".
With its minimalist backbone, ethereal synth and subtle vocal camaraderie, "Drive" is the undisputable dark horse of the new record and a killer live. It's the track that just keeps on giving, Kokal's dreamy "Into the eye, into the storm" resounding across the O2′s shallow roofing. It pulls every listener into its wake.
"Undertow" is a explosive number at the encore with little room for zip-lipped punters; every audience member is in their element singing along to its haunting melodies, meandering bass and jagged guitars. The song's magnetic effect is still remarkable four years on.
Set closer "Elephants" is the crux of the evening. Militant drums, warped vocals and fluttery guitars burst forth with energy, before being taken down to a whisper. Just as the confused crowd think it's all over, the girls hoist all the components upwards, playing expertly with texture and tempo. It's like peering in on a private jam session, watching four talented and unswerving musicians at work, and is the perfect ending to a night full of immersive music. Yet again, you'll thank your patience.