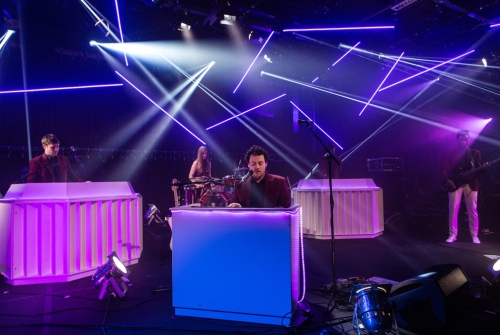 *Originally published for

The Line of Best Fit

(21/2/14)
One of the few delights during the bleak winter months is the awards season. From star-studded film ceremonies, to big music awards like the Grammys and the BRITS, it's a treat for avid culture vultures and the entertainment industry alike. The first of many (October's 2013 Barclaycard Mercury Music Prize) crowned James Blake a worthy winner for his LP Overgrown, nicely warming us up for a fruitful spell of events that help us digest the year in its various art forms. To keep the Mercury flame alight, and to celebrate live music, there is also a series of one-off gigs featuring nominee alumni and other acts – and tonight's debut instalment of Barclaycard's Mercury Prize Sessions boasts a fine line-up.
The Hospital Club's basement studio isn't packed to the rafters with the expected tastemakers. No, making up the majority of the crowd in the modest space are competition winners – and it shows. As New York-based rapper/lyricist
Angel Haze
runs onto the stage, there's giddy, tangible excitement: all hands in the air and beaming faces.
It's clear to see why Haze has been so welcomed. What follows is a 20-minute set of some of the most provoking live music to reach these shores; Haze spitting rhymes over an extremely tight and vivacious backing band. New song, "Sing About Me", and debut album-closer, "New York", are so well executed they sound like they've been ripped straight from the studio, if only to be shaken up by Haze's riotous spit and lurches into the crowd.
Before long, rising Brooklyn soloist
LOLO
jumps onstage to sing on "Drunk In Love" and Haze's new single, "Battle Cry". It's a good, though not brilliant performance: LOLO's solid, soulful vocal not quite carrying above the bulge of the rhythm section. The song that most comes into itself on this opening set is "A Tribe Called Red", bustling with bright keys, motif aahs and oohs and huge, pneumatic beats.
Next up,
CHVRCHES
. Admittedly, the juxtaposition between Haze's rap snarl and the Scottish trio's balmy brand of electropop is all too sharp, with vocalist Lauren Mayberry getting lost in Iain Cook and Martin Doherty's fuzzy synthesisers. "Lies" soon sees the meek-n-mild Mayberry connect with the audience, punching the air on every synth clap and lifting her chin to the crowd.
Bodies later throw to the beat of "Recover", with a stunning blue hue blanketing the band at its breakdown, but "Under the Tide" unfortunately jars against it with Doherty's awkward take on frontman duties: flailing his arms around like an excitable child. At this moment, the slightly sanitised nature of the gig (which is being filmed for later broadcast) becomes most apparent; the crowd stifled by Doherty's urgent performance to camera. "Two more and then you're done", Mayberry says afterwards, as if to roll out the red for headliners Metronomy. Set closer, "The Mother We Share", sounds somewhat small with its live bass guitar, but is thankfully saved by glorious, syncopated vocal melodies at the end.
The most anticipated act of the night is evidently
Metronomy
, with conversations about their new album,
Love Letters
, hanging heavy in the air. For those lucky enough to have heard their third release, tonight is the perfect litmus test for the new numbers. But a couple of songs in and it's clear there will be no golden oldies for the eager crowd.
One such example is "Month of Sundays" – a quirky slice of pop with gospel overtones that sounds wonderful with its humid harmonies and a tender, free-flowing guitar solos. The second single from the London-based six-piece's new LP, "Love Letter" – complete with statement honky-tonk piano, hammering beats and 60s-indebted choral singing – is almost perfect live, if not impaired by frontman Joe Mount's weak harmony line.
Where "Call Me" is flaccid and disengaging, 40s doo-wap single "I'm Aquarius" is mercifully sleek and slick, finally placing Mount as the bandleader centrestage. Some of the earlier tracks, such as the instrumental, "Boy Racers", add little to the set. But these are excused by the snappy, "Reservoir", and the frankly brilliant, "The Most Immaculate Haircut" (a funny ode to
Connan Mockasin'
s lid) which sees the band at their most unified: flitting between Mount's solitary verses and a choruses ripe with bold group singing.
Although all the performances tonight have their inconsistencies – of course part and parcel of the nature of live music – it was a special and quietly momentous evening that celebrated all that is good and varied about contemporary music. Raise your glasses, and bring on the next.