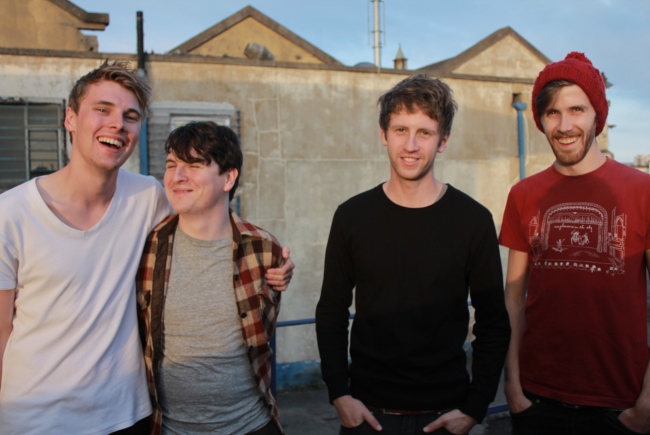 *Originally published for The Line of Best Fit (6/1/14 - 10/1/14)
Girl Band - "Lawman"
Dublin noise quartet

Girl Band

unleash a sprawling, six-minute beast of a song in "Lawman". Oh, and they're not girls.
In early 2013, the band's barmy-but-brilliant cover of
Blawan's
"What You Do With What You Have" chomped down on the original's techno beats and spat it out as a new creation. The band's new "anti single" has the same beating heart at its core, paired with industrial stomp and dissonant guitars that meet in a dirty cacophony of sound.
The track builds slowly amid schoolboy vocals ("I used to be good-looking") and bolstering high-hats. It's anyone's guess what effects are used or where the boys draw their inspiration from, but they clearly value channelling energy into every available nook. By its nature "Lawman" will likely split opinion, and that's part of its charm.
DENA - "Bad Timing" [Video Teaser]
Berlin-based artist

DENA

builds excitement towards her debut album with a smouldering video teaser for "Bad Timing".
Set against a backdrop of distant city lights, Denitza Torodrova (DENA) glows in UV as if to seek her lover out amidst the frantic pace of urban life. "When you think about it what we've got/ is bad timing", she chirps in the full song (listen
here
) whilst sleepy hip-hop beats and sharp hand-claps loop. Vocals tumble on top of each other, shedding themselves of the urgency heard on upbeat offerings "Thin Rope" and "Games".
The teaser works exactly as it should by getting us a bit too excited for her debut, "Flash", released on 3 March (via Normal Surround).

LOLO - "Gangsters" (feat. Giggs)
Tennessee via Brooklyn popstress

LOLO

returns with her most soulful song to date.
Recalling
Amy Winehouse's
revival of 60s soul with its no bones vocal, tottering rhythms and blasts of brass, "Gangsters" is one polished slab of pop music. Accessible without lacking imagination (save for the superfluous mid-section rap by
Giggs
), it's clear to see why she is joining the likes of pop newcomer
John Newman
on his upcoming UK tour.
Cheerleader - "New Daze"
Philadelphia-based quintet

Cheerleader

unveiled their indie-pop track "New Daze" last summer. Now they've released the accompanying video, created at the hands of Vondelpark filmmaker Ciaran Wood.
In truth, you'd be pushed to find a more suited video for Cheerleader's gorgeous lo-fi sound. With its nostalgic home-video makeup and slow-mo scenes of summer driving, the visuals pair up all too nicely with the track's dozy vocals and shuffle-pop sentiments . Hypnotic, cyclical imagery works to keep you watching right until the end.

Rare Monk - "Splice"


Portland band

Rare Monk

kick off 2014 with a limited release of "Splice" and show us a thing or two about crafting near-perfect indie rock.
Armed with zippy guitars and steady percussion, "Splice" at first travels slowly, lifted by dreamy vocal harmonies and subtle electronic hues. This melodic slow-burn could carry on quietly, but the troupe decide it's not enough and abandon all expectations for one unabashed, thunderous blow-out. Their sonic sound only leaves the heart yearning for more.