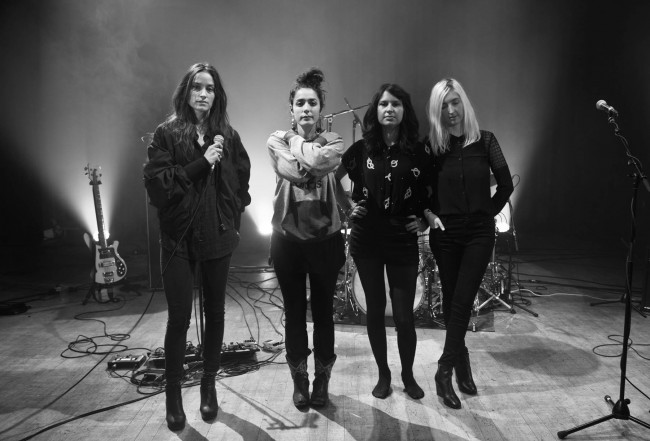 *Originally published for The Line of Best Fit (17/1/14)
"We want our music to be universal, something people can be in the mood for at any point in time".
A personal, spiritual connection to a piece of music is a difficult bond to break. A shared one is something else. For the hundreds piled into Brixton's O2 Academy in October, many were reminded of
Warpaint's
effortless ability to spark numinosity, stimulated by their brand of dark, atmospheric music. The LA quartet's writing has always been about creating a mood – albeit an indefinable one – but one that swallows you whole and makes you feel connected to anyone else similarly wired into their music. The air floating amongst Brixton's high ceilings that autumn night hung heavy with an unusual, spiritual feeling of shared emotion.
"That was a really big moment for us", says Warpaint bassist/vocalist Jenny Lee Lindberg down the phone. "We were excited to play our new songs and I was so shocked by the reaction. I felt a strange sense of comfort which was the opposite of what I expected."
Though the nature of the band's signature erratic sound can be unnerving, Warpaint's songs are frequently comforted by walls of warm ambience, the latter thread that bound their 2010 debut,
The Fool
, so well together. Of course, this unity between songs has the potential to soothe many a heart and ear, perhaps a "universal" sound Lindberg so desires. "If [our music] evokes any kind of emotion that people enjoy, then I'm happy", she says.
But Warpaint's beautifully perplexing musical dichotomy of repulsion and attraction will always lend itself to healthy discussion. The nub of everything, actually, is: what is it that makes them so special? Perhaps it's their own worldly-wise understanding of who they are, how they sound and how they work together as a group. As Lindberg explains, it's not like they care too much about what people think.
"I do not read reviews, there's nothing you can do change what you've done. I don't want to care, though obviously I do a bit, because I'm human. But really we just want to make our art." Indeed, Warpaint just want to get on with it.
This strength of conviction can in part be attributed to the band's longevity in the face of adversity. Formed in LA in 2004 after Lindberg's sister, actress/drummer Shannon Sossamon, invited childhood friends Emily Kokal (guitarist/vocalist) and Theresa Wayman (guitarist/vocalist) to start a new band, it took just a few line-up jumps to delay their first album by half a decade. After various drummer changes following Sossamon's departure for her acting career, the stars at last aligned when Australian drummer Stella Mozgawa stepped-in for
The Fool
in 2009.
These ambitions, meetings and uprootings to LA were a blessing, particularly for Lindberg who had left home in Nevada with little idea of what to do next.
"I was 19 when I moved to LA. My sister was modelling and acting there and then I did a bit of modelling too. I just dabbled. I had a lot of energy when I was growing up – I had ADD. My mom would say 'try something new' and I would and most things just did not resonate with me. I'd never thought about playing bass before.
"I definitely listened to music by myself a lot, though. I'd sit in my room, write my journal and listen to bands like
The Cure
,
Smashing Pumpkins
,
Depeche Mode
,
Nine Inch Nails
and
Kate Bush
."
Just before
The Fool
came out, the girls worked in cafes or on artistic projects. Lindberg worked at a vegan cafe and as a vintage clothes buyer/maker. Kokal worked in cafes and babysat. Theresa made and sold raw chocolate, as well as helping her boyfriend with his clothing designs.
Since their debut release (produced by John Frusciante, who was dating Kokal at the time), Warpaint have become the cream of the critics' crop, thanks to their inventive songwriting and mesmerising live shows. In March 2012, they paired-up with celebrated producer Flood and long-term
Radiohead
producer Nigel Godrich, swapped the city for the stunning landscapes of California's Joshua Tree and recorded
Warpaint
in a month. Never has the band's confidence and empathy been more apparent than on their long-awaited follow-up.
"The biggest difference between this album and the last is the simplicity of the music and everyone integrating with each other", Lindberg says. "For the first time we actually have songs within the record that were written by one person."
There are certainly changes: from instrument-hopping (Lindberg clarifies that it's her who plays the guitar on "Feeling Alright", with Wayman on bass), to each member having a much more assertive role. To name but a few examples: Mozgawa penned "Feeling Alright" and "Go In", Lindberg wrote "CC" and "Son" is Wayman's baby, completed by Mozgawa's drum composition.
"It can be tough being in a band with your best friends", Jenny adds. "It takes work and it needs nurturing and it needs love, kindness and compassion. Doing your favourite thing with some of your favourite people in the world is amazing, but mixing business with pleasure can also get pretty heady. The most important thing is compassion."
That understanding of each other's individual creativity is what allows the band to remain open to new ideas, which is more so the case than ever on
Warpaint
.
On the menu this time round is trippy lounge ("Hi"), dreamy synthpop ("Biggy"), piano balladry ("Son") and even some off-the-wall alt hip-hop ("Disco//Very"). Guitars are less the bedrock, the songs are more wholesome and vocals loom larger at the fore. However, amid what sounds like a big change, isn't a big change. Somehow, just somehow, the record carries all the band's original juxtapositions: their mismatched coherence, their knack for pulling you in and spitting you out. Ultimately it's the stuff that makes Warpaint, well, Warpaint.
"I think it's a sexier record and has more groove. The grooves are more meditative and transient than on
The Fool
. The (writing/recording) period was really easy and pretty fluid, moving at a faster pace than
The Fool
which took us a couple more years. This time we had been touring for two or three years, so when we were on the road I did a little bit of writing. We were all ready to write and play new stuff. I remember there was a new line that Emily would play over and over on tour, the one for "Keep It Healthy". That kept going around and we would get all excited and groove around to it."
When the time felt right to record, the band "wrote every day" in a Geodesic dome in the California desert. Their creative movements were filmed by Lindberg's husband and British visionary director, Chris Cunningham, who started popping his head in after working on other projects nearby. The result is
Love Is To Die
, to be released later this year.
Lindberg adds: "It never felt like we were being filmed, it was really organic. (Chris) wasn't in our face and, you know, when the sun went down, the pot came out…it was fun."
The new year now sees the band releasing the record, trying to "perfect" their live show and utilising the down time they have in between schedules. "I just want to keep gathering content all the time, keep on top of writing", Lindberg concludes.
And so while we're still trying to get to the heart of what makes the four-piece so unique, it seems Warpaint have got themselves all sussed-out. Musically and individually, they are free, unbounded, if only to bind listeners together through art. But as a group, they are firmly rooted, if only by their immovable friendship. The whole is greater than the sum of its parts.
Warpaint
is out now on
Rough Trade
.
[Photography by India Whiley-Morton].